Late - Release Systems
Here we mainly differentiate between the Longline and Carousel processes, with both systems a direct bonding is fashioned between the concrete and the wires or strands. In addition the Carousel system allows the use of wires with different systems of end anchoring.

Both systems require a great number of moulds; however the Carousel process is significantly more flexible with considerably lower space requirements.

Only in the Carousel process completely different designed sleepers as well as bi-block sleepers can be produced in the same turn or shift with prestressed concrete sleepers. The respective amount of sleepers per turn is selectable.

The processes should be selected according to daily capacity and degree of automation. There is a choice between high, medium and low degrees of automation, which with constant materials costs can have a positive effect in bringing down production costs.

Turnout sleepers production

For the production of turnout sleepers the longline system is more established as a carousel system world wide.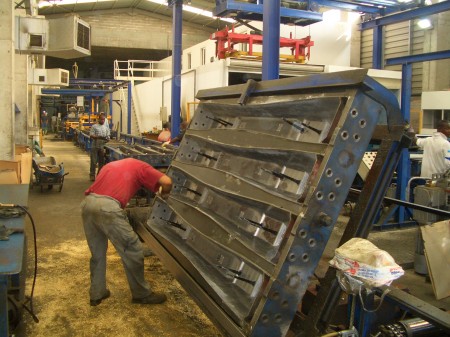 <<
>>